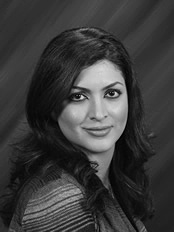 Your weightloss
journey begins here!
Let us introduce Dr. Layla Sade, Ph.D., CNC, AANC, ADA
According to the World Health Organization, "health is more than the absence of disease. Health is a state of optimal well-being." I believe that optimal well-being is a concept of health that goes beyond the curing of illness, and I would like to take this opportunity to introduce myself and my specialty to the community.
I have my Doctorate in Holistic Nutrition, Masters in Food Science, and a varied background in Chemistry. My diverse studies enable me to create a different perspective catered for each individual. I analyze biological/chemical problems and mechanisms and incorporate my knowledge of the best natural foods and ingredients into each individual's diet, to fit their needs. I perform a wellness consultation that takes into account diet, nutritional supplementation, exercise, mind & body imbalances, and alternative healing.
When approaching adults, it is important to remember every person is an individual, and everybody's needs and sensitivities are unique, particularly in terms of diet and lifestyle. In order to understand each person's specific health condition, weaknesses and requirements, I spend two to three hours evaluating each patient's specific health data, providing them with a personalized report that will feature report of findings, corrective recommendations and validation of those recommendations. In addition to diet, herbs, nutritional supplements, exercise and stress reduction methods, I discuss the concepts of detoxification and many other healing modalities as they apply to every person's needs.
My Services include:
12-week weight loss program
Personal Health Coaching: You will receive 1:1 coaching once a week for the duration of the program. Weekly BIA Complete Body Composition Testing. Individualized Weight Loss Programs. Dr. Sade will always be there to support and guide you through your program and help you reach your weight loss goals.

Meal Plans and Recipes: Dr. Sade will learn about your lifestyle. She'll provide you with delicious recipes! You will also learn the fundamentals of the meal portioning part of the program, how to eat the foods you want and lose weight in the process, for the rest of your life.

Weekly Vitamin injections: You will receive Vitamin B12, and Lipotropic vitamin injections to facilitate the fat loss process.

Optional items avaiable:

Natural Health Supplements: You can purchase separately, Weight Control & Metabolism Boosting Natural Health Products to support each month of your weight loss journey, if needed. Our Natural Health Supplements are clinically tested and made from the highest quality, safest, and most effective ingredients available. They are exclusively provided by Dr. Sade and not available at other retail outlets.

DNA analysis for optimal nutrition plan: This concept was designed to test if your body responds to fats, carbs, or both. It gives you a better understanding of how your body is made, and to help you to be cautious of what foods to stay away from. Your test results aren't just a list of your gene variants. You'll also get insights and tips, so that you can make choices that are right for you. And while your profile will let you know if you're predisposed to certain traits, it's not a diagnosis, so interpret your results with care.